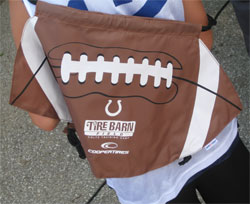 We recently had the opportunity to travel to Indiana to visit our client, Tire Barn, at the Indianapolis Colts training camp.
However, Tire Barn didn't just want to be present at the event, they wanted to do some good, too. They took the promotional items we collaborated on - logoed shirts, embroidered hats, imprinted flashlights and branded bags - and held a fundraiser for the Susan. G. Komen Foundation.
Fans paid $5 to spin a prize wheel - if they won, they received their choice of promotional apparel and if they "lost", they could choose from a myriad of other goodies. The fundraiser was a success in many ways. Our client raised $13,000 dollars for breast cancer research, while also getting their brand out to legions of fans who were more than happy to support charity in exchange for some fun gifts.
We were excited to see our client's fundraiser go well - so much that we even spun the prize wheel a few times ourselves!
Do you need items or ideas for your next fundraiser? Call your rep or contact us, we're more than happy to help!