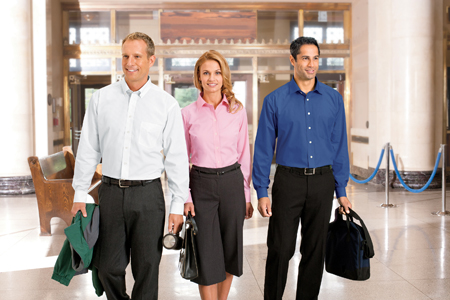 Made from high-quality fabrics and tailored to fit, our Chestnut Hill Performance Shirts will make your employees or clients look professional day in and day out, week after week.
Choose between our smooth, easy-care 55% cotton / 45% polyester broadcloth shirts, which come in a wide selection of colors and patterns, or our light, yet durable, 85% cotton/15% polyester pinpoint oxfords in classic shades of blue, gray and white.
All of our Chestnut Hill woven shirts are treated to resist wrinkles and stains, making it easy for your employees to look crisp and polished at all times. Tailored touches, including patented taped seams and specially fused collars, cuffs and plackets ensure pucker-free performance wash after wash.
Our Men's versions include left-chest pockets and adjustable comfort collars for an extra inch of stretch at the neck. Our Ladies shirts have back and bust darts for a feminine fit and feature pearlized buttons for an extra touch of class.
Best of all, our Chestnut Hill Performance Shirts have special pricing until the end of August, so your organization can invest in style while saving, too.
Like what you see below but need more options? Then visit our button down shirt selection, call your rep or contact us today.
Chestnut Hill Broadcloth Shirts for Men & Women
Chestnut Hill Pinpoint Oxfords for Men & Women