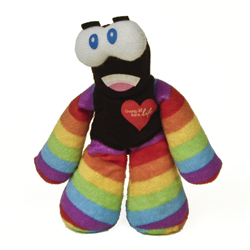 Our client, a global biotechnology company, asked if we could make a real-life version of their mascot to hand out to their employees and the beneficiaries of their philanthropic work. Enter The Giving Gene - a totally unique, custom-made toy.
Gene was conceived in the States, born overseas and went through a few collaborative makeovers until our client decided on what they wanted - a soft, bean-filled toy that its recipients would feel compelled to interact with. It's fun, posable and fits perfectly in the palm of your hand.
Gene is a wonderful representative of the charitable work its parent company does - and the perfect companion for an adult who needs a smile or a child looking for a friend.
Do you need to bring your organization's mascot to life? Let us know, we'll work with you to turn a familiar face into reality.