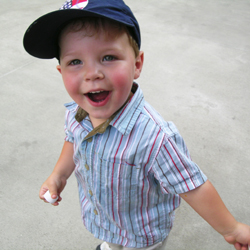 From athletes to hip-hop stars and truck drivers, celebrities hiding from the paparazzi to your friends hiding a bad hair day - baseball caps transcend every American profession, class and income level. Seen on the playing field, on the street and sometimes in the workplace, the branded baseball cap could be considered the hat of the U.S.A. Yet, this popular wardrobe staple started out like many other clothing accessories - through necessity.
It all began on April 24, 1849 when the New York Knickerbockers, one of baseball's first professional teams, adopted an official uniform, which included a straw hat to shade their players faces from the sun. Within a few years, they switched to a merino wool cap with features of today's baseball hat: a crown and a bill (or visor). Soon after, in 1860, the Brooklyn Excelsiors debuted a modern, rounded-top baseball cap and by 1900, the "Brooklyn-style" hat, with a long sun-blocking visor and a button on top, became popular.
However, it wasn't until the 1901-02 Detroit Tigers put an image of their team's nickname on the front of their baseball caps, starting a trend.
By 1954, every professional baseball team had a hat branded with their logo and thanks to fans who wanted to emulate their sport heroes, the caps began to migrate off the field into everyday life.
Flash forward to today -with thousands of different styles and sizes, baseball caps have evolved into an everyday accessory. Take a look in your closet - from sports teams, to promotional hats from your place of work or your local softball league, you probably have quite a collection.
Your organization can even create their own promotional baseball caps - or use any of its variations, like military hats or visors. So get your company some representation on the field and on the street by getting one of the most popular - and all-American - accessories of all time, the baseball cap.