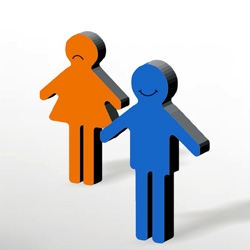 Ever wonder why men and women seem to prefer different colors? While there are no concrete rules about what colors are exclusively masculine or feminine, studies on this topic have drawn some interesting generalizations.
If you have the freedom to order promotional products for your organization in the color of your choice, then read on for some interesting color and gender facts - because the more you know, the better you can cater your branded items to your client or employee needs.
Favorite Color by Gender
Male: Blue 57%
Female: Blue 35%
Blue - a color associated with the clear skies, clean water and calm - was a favorite among both genders.
Least Favorite Color by Gender
Male: Brown 27%
Female: Orange 33%
Bright vs. Soft Colors
Women prefer soft colors, like pastels, while men like bright, jewel-colored tones.
Tints vs. Shades
Women (allegedly, due to their higher awareness of specific colors), prefer tints (any color with white added), which are associated with youth and gentleness. On the other hand, men preferred shades, (any color with black added) and those types of colors are seen as deep and powerful.
To see an example, our Fall 2011 Color Forecast has color wheels that show bright, shaded men's colors and soft, tinted women's colors.
Still interested in learning more? Then check out the KISSmetrics True Colors infographic or put your newfound knowledge to the test while shopping for your next order of promotional products.