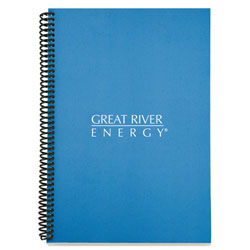 Tired of lugging around all your tablets and laptops and the endless mound of cables and spare batteries they require? Then maybe it's time to cut the cord and get back to basics.
According to the June 2011 issue of fashion magazine Elle, battery charging is passé . They recommend using an old-fashioned, eco-friendly notebook and a recyclable pen to write down your thoughts.
So, put your logo on our eco-friendly pens and notebooks and free your clients or employees from the tyranny of the power outlet.