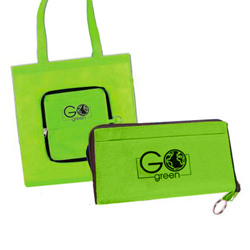 Vogue is convinced that a little bit of logo goes a long way - they recommend that your summer bags and their logos should be simple, light and reflective of the season. We agree!
Don't make your clients lug around a large tote during the dogs days of summer - beat the heat by using a cosmetic bag as a clutch or give them a satchel that folds into a compact version of itself, such as our Zippin Tote. Think small. Think stylish.
But the fun doesn't stop there - in a season when accessories should be sunny and carefree, match your imprint to the summery mood. Try a petite version of your logo or drape the bag with a dainty branded pattern.
Need more great ideas? Check out our promotional bags and totes or contact us to learn how your organization can look cool during this hot season!