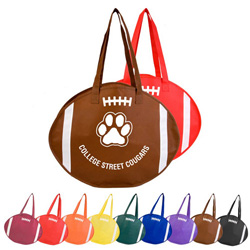 Show your team spirit with our Football Tote! With your choice of nine colors and pre-printed white football "stitching" you'll be able to show support for your business or organization on and off the field.
Our bag is a "fan" of the environment as well - it's made of 40% pre-consumer and 60% post-consumer recycled materials, which makes it 100% eco-friendly.
But wait, our satchel's design isn't the only feature worth getting excited about - it's is on sale for an amazing $1.79 until July 31, 2011.
So what are you waiting for? Get your clients or employees ready to rumble with our Football Tote!