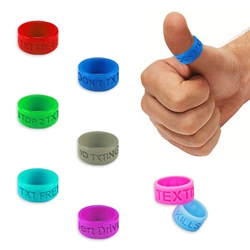 The dangers of texting while driving have become a big issue over the past few years, with bans advocated by celebrities, civil leaders and lawmakers alike. In fact, 31 states, D.C. and Guam ban text messaging for all drivers.
According to Distraction.gov, the Official U.S. Government Website for Distracted Driving, there are three ways a driver's attention can be diverted from the road: visual (taking eyes off the road), manual (taking hands off the wheel) and cognitive (taking mind off of what one is doing). While all distractions can threaten a driver's safety, the most concerning is texting because it involves all of three types of distraction.
If your business or organization wants to join this campaign against distracted driving, then consider our Silicone Thumb Rings - an easy, friendly and colorful way to remind drivers to put the phone down while operating a motor vehicle.
The rings are made of color matched silicone that will make any safety message really stick out - and remind the wearers that your business or organization cares about their safety!