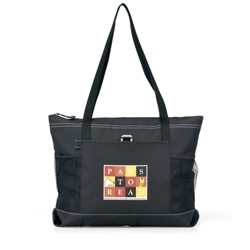 Have you heard? When it comes to impressions (the number of times an item is used multiplied by the number of times people see the item), promotional bags are #1.
Bags are a good fit for your needs if you are looking for a promotional product that:
Goes the Distance
Bags are used regularly at the office, at leisure, when exercising and at home. With an average of 1,078 impressions a month, imprinted bags are out, about and in front of your audiences. Also, promotional bags create double exposure because they're seen both by the user and those who see the user carrying it with them wherever they go.
Has a High Perceived Value
Bags have a high perceived value when compared to retail value of similar and like items - so it doesn't matter if your organization needs budget-friendly branded convention totes or swanky airport-friendly computer portfolios as corporate gifts - your branded bag will be highly regarded by your clients or employees.
Offers More Than One Imprint Area
Bags can be imprinted in several different areas. Depending on the make, the outside, the inside and the handles can all be branded with your logo. This means you have multiple ways of advertising your company to your clients or employees. It also gives you the options to co-brand with another organization if you're collaborating on a project together.
If you need some ideas, check out our Mia Reversible Tote - it's two stylish bags in one and with a tag that can be added as an additional decoration option - or our Piccolo Mini Tote.
Is Versatile
Size: With bags, you don't have to worry about sizing - because one size fits all.
Gender: Depending on the design and the color, both men and women can use the same bag.
Age: Bags can have a widespread, ageless appeal.
Has Return on Investment (ROI)
With all of these factors, promotional bags can create a great response rate for incentives, visibility, call to action advertising and top-of-mind branding.
Best of all, branded apparel (#2 at impressions), logoed writing instruments (#3), promotional calendars (#4), imprinted electronics (#5) and more can ALL fit into a bag. Use your bag as a vehicle for giving away other promotional products - and double your advertising exposure!