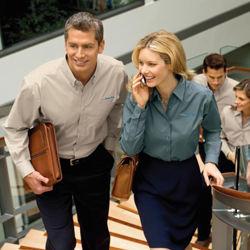 Outfitting your organization in branded corporate apparel is a great way to display company pride, create a sense of community and keep your workforce looking professional. No matter what you are looking for - uniforms, specialized workwear (such as safety vests or serving aprons) or simply just promotional clothing for your team - implementing a corporate apparel program can be convenient and easy.
Here are some tips to get you started:
Consult Your Audience
Involve your team in the decision making process so you can give everyone options that are professional, convenient and functional. Plus, by getting input from everyone, you will avoid blunders like ordering apparel that accounting can wear but your teammates in the warehouse cannot.
Use a free and easy service like Survey Monkey and send out a brief email survey to your employees or managers - ask them what they are most interested in seeing.
Make It Simple
Make sure the products you select have coordinating men's and women's styles.
Choose a supplier who has the inventory to fit your needs. Your Leaderpromos partner can help you go over your options.
Consider embroidery. Not only can it broaden your color and design options (embroidery can make detailed and complicated logos come to life), but with our in-house Rapid Logo Service, you can have your apparel ordered, logoed and shipped within 24 hours. You can even purchase pieces one-at-a-time. Plus, there is zero risk to using the Rapid Logo Service, because you don't have to stock apparel - we'll take care of everything. Ask your Leaderpromos account representative for details.
Use Your Expertise
Educate yourself on the latest retail fashions and trends. Or, better yet, consult your Leaderpromos expert for ideas and advice. They live, eat and breathe promotional apparel - make their expertise work for you!
Start Small
Begin your program with a few items and see what works.
Give yourself a 90 day window to try out and perfect the process. Slowly add and change items as needed, until you find out what options are the best for your organization.
Follow Up
Once your program is launched, educate your management and teammates about their new and convenient promotional clothing choices. To keep your new program top-of-mind and to ensure a return on your investment, consider passing out an inexpensive promotional item like a mouse pad or post-it note cube to remind them of their wearable options.
Add your organization's apparel options to your new hire packages.
Review your apparel program quarterly or seasonally to keep the choices fresh and on trend.
Utilize your email survey to solicit feedback about your new promotional apparel!
If you have any questions or an idea about starting your own corporate apparel program, talk to your Leaderpromos representative or contact us.