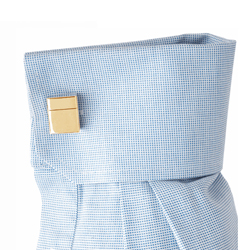 With our USB People, our USB Cork Drive and our Hide-Away USB 2GB Memory Ballpoint Pens, you've seen that we have some of the most unique promotional USB drives in the industry. However, one retail outlet has taken portable data storage and made it a fashion accessory.
First reported on the Faconnable Lifestyle Blog, these USB Cufflinks are miniature flash drives that not only hold your sleeves together, but can carry up to a total of 4GB of information. They also come in a range of colors and designs (including paisley) so you can mix and match accordingly.
For those of you who would rather carry (instead of wear) your data storage device, check out our Custom USB Drives for less wearable, but still practical and fun options.