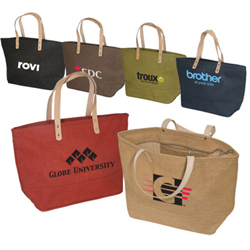 "Going Green" is becoming less of a trend and more of a standard in the fashion world. Everyone from high-end designers like Phillip Lim to mass retailers like H & M have responded to the public's sustained interest in environmentally friendly products by stylishly incorporating natural fabrics and materials into their clothing, jewelry, accessories and bags for Spring 2011, reports the December 2010 issue of Vogue.
According to Vogue, designers are looking to "step beyond fashion's all-pervasive red carpet obsession of recent memory" and "offer luxury for real life." These new styles enable the wearer to balance the luxury that high fashion is prized for, while still being sustainably green.
Taking inspiration from designers such as Michael Kors, Balenciaga and Salvatore Ferragamo, this eco-mindset has started to trickle over from the fashion industry into the promotional products arena, notably in the form of eco-friendly totes.
We've added stylish recyclable totes and natural fiber bags to our site, so you can promote your organization, be chic and environmentally friendly all at the same time. And if you're inspired by a tote on the runway, just call your Leadepromos representative and utilize our in-house design team and our custom promotional product sourcing to make it happen for your company.
Plus, because they will be used again and again, eco-friendly bags are not only green, but also make an extremely effective promotional product. As quoted in the article, Michael Kors summed it up best when he said: "The greenest thing you can do in fashion is to buy something great that you are going to use for years." We couldn't agree more.
Call your Leaderpromos representative or contact us today to "go green" with style.