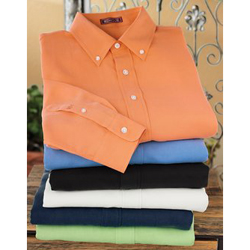 We're sure you've heard the news -- cotton prices are on the rise. Queue the market panic.
But wait - with Leaderpromos as your trusted promotional product partner, you don't need to worry.
Here are some tips to save you time, stress and money when choosing your corporate apparel:
Plan ahead: Many of our vendors are trying to hold prices through the first quarter of 2011. If you're planning an apparel purchase, consider moving up your purchase date to the beginning of the year to take advantage of this pricing.
Consider your options: Our expert account reps can show you a range of options in a variety of fabrics so you don't have to trade cost for quality. Cotton may be going up, but it isn't the only fabric available.
There are still deals: Work with your Leaderpromos account representative to see if any of our sale items suit your needs. We also have access to special pricing for large orders, so combining your promotional apparel purchases into a single larger order can pay dividends, too.
Most importantly, don't give up on apparel. We promise to bring you value. Sure prices are up, but when done right, promotional clothing is one of the strongest and most effective marketing tools.
There may not be a perfect answer to the cotton crisis, but we are here to work side-by-side with you to find solutions that work for your unique situation. Give us a call. We will do whatever it takes to get you your apparel on-budget, on-brand, and on-time.