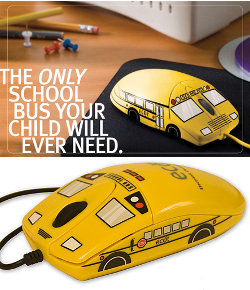 A tuition-free, all online, web-based school that educates over 10,000 students in grades K-12, needed to generate new ideas for their advertising program.
A former client of ours had taken a job in their Human Resources Department. At her recommendation, they contacted Leaderpromos.com and invited us to come on board.
Soon, a collaborative relationship was born and we were providing them with unique tradeshow items, embroidered apparel and student incentives.
During a meeting, we noted that the front of the client's brochure featured a picture of a computer mouse 'driving' down the road to education and the phrase "The only bus you'll ever need."
The brochure sparked an idea. We were able to turn a simple picture into reality, a custom yellow mouse in the design of a bus.
Now, over 10,000 students and their parents are learning online using the custom mice--a physical representation of their virtual community.
Have an exceptional idea that you'd like to turn into a product? With our in-house design and sourcing capabilities you can. Contact us today!