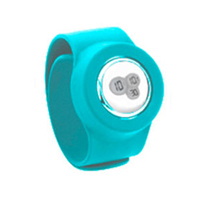 Remember slap bracelets? The fun wristbands have returned as colorful slap-on watches, available at the trendsetting women's retailer Henri Bendel. The cheerful timepieces are the result of a partnership between the boutique and watchmaker TKO Orlogi.
Interested in getting your logo on such a fashion-forward (and fun!) item? Then check out our Digital and Analog Slap-On Watches. With an imprint on the strap or face, our flexible silicone watch is an entertaining and functional way to promote your business.
Also, they are completely shower-proof, making them more than just another pretty face. Our watches are available in white, grey or six other vibrant jewel tones.
Don't waste any more time, catch the trend and order yours today!