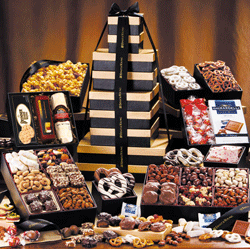 ...Food!
Here are just a few reasons why food is such a perfect gift for your clients:
Food gifts are fresh: Our high-quality goods are 100% packed-to-order. Home-style cookies, tempting brownies, rich chocolate, delectable roasted nuts, appetizing aged cheese and savory smoked meats - we have something for everyone. (But don't take our word for it, call for a sample and taste for yourself!)
Food gifts can be shared: You can get too many ties, but you can never get too many cookies! Think about how many times your logo will be seen as the office 'herd' descends upon the goodies in your gift basket.
Food gifts are value-driven: We have options for every budget. Plus:
-Order minimums are as low as 4 units.
-Select gifts imprinted with your logo at no cost.
-Free set-ups and no die charges on our sale items!
Sending food gifts is stress-free: Purchasing multiple items? Mailing to multiple locations? Don't want it to ship until later? No problem. (Seriously.) We'll take care of it. Send us your list and your gifts will ship directly to each recipient.

Surprise your clients with your thoughtfulness - then sit back, relax and enjoy the holiday season as we take care of everything else.
Check out our complete selection of edible promos for even more memorable ideas.