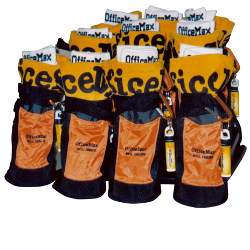 Our client was interested in giving their employees a memorable thank you gift for participating in the annual wellness conference.
We worked closely with the client to develop a custom "fitness gift" that included a branded water bottle with holder and clip-on lip balm. Inside the water bottle: a pair of personalized exercise socks, and an embroidered exercise towel!
The employees loved the gift, and can't wait to see what fun gift will commemorate next year's wellness conference!