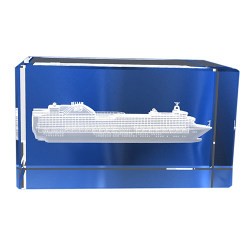 Our client, a major cruise line, was interested in partnering with us to develop a custom piece that they would give to all their employees to commemorate the first sailing of one of their new cruise ships.
We concepted, designed and manufactured an acrylic block with a three-dimensional depiction of the ship carved inside. The piece is packed in a custom satin-lined gift box that coordinates with the décor of the new ship.
Now each employee looks forward to the christening of a new ship so they can add a new piece to their collection!