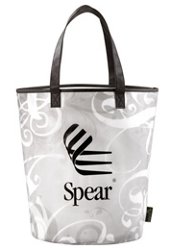 Equally perfect for a day of shopping or a day at the beach, our new laminated basket swirl tote doesn't sacrifice style for price!
The tote features a basket-style bottom and is constructed of easy-care laminated polypropylene for durability and added strength.
The bag's glossy finish and pre-printed gray swirl pattern form an ideal canvas for your one-color silkscreened logo, while a sewn-in seam tag and "recycle me" message on the bottom let users know it doesn't belong in a landfill.
Sturdy 8-inch black drop handles and reinforced trim around the mouth help the tote handle heavy loads, while the 10-inch round bottom accommodates bulky items with ease.