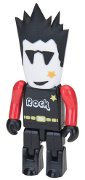 Looking for something different in a flash drive? Check out our new rubber head rocker!
This 3 1/2" tall articulated figure has a full 1GB of storage capacity and will proudly wear your one or two-color logo on his back.
Minimum order is just 50 pieces, and full customization is available for quantities of 250 pieces or more.
Not quite ready to rock? No problem. We have lots of other great USB people, too.