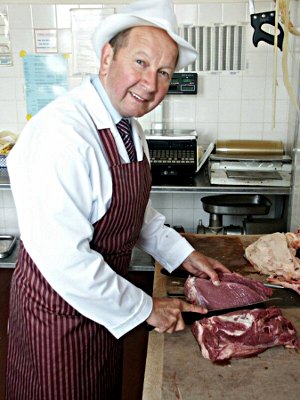 When I was a kid, I went along with my mom to the grocery store almost every week. One of the highlights (besides pushing the cart) was watching the meat cutters carve out thick steaks, hearty roasts and prime chops. The friendly guys in the white coats were right on the floor of the store--always ready to serve up a custom cut along with a joke or two.
But that was years ago. Things have changed. Stores grew larger and larger. Cheaper frozen and prepackaged cuts took over many meat departments. The remaining cutters were hidden away in a back room, churning out and wrapping cuts for the cooler, not the customer.
And the service? More often than not, today it's self-service, as in picking a cellophane-wrapped package out of a bin.
Fortunately, that trend is beginning to reverse itself. As the Wall Street Journal reports, supermarket chains such as Winn-Dixie, Kroger and Supervalu are knocking down walls and encouraging their meat cutters to offer advice to customers on everything from seasoning to side dishes.
It's not out of a sense of nostalgia, it's a play to attract and keep customers that otherwise might migrate to supercenters or niche purveyors. And it seems to be working--fresh meat sales at supermarkets have risen 12.2% for the 52 weeks ended July 11.
This trend isn't limited to the meat department or even the supermarket industry. "The Value of Real-Time Customer Care" on Forbes.com by Allen Adamson cites how companies from airlines to hardware stores are leveraging the power of personal service.
"In a tough economic climate, real customer care--not virtual--can be the differentiating factor between two competing brands," says Adamson.
Real customer care is something we work at every day here at Leaderpromos.com. Our reps know that they must deliver that personal touch, that something extra that makes us stand out from our competition or their customers might stray. It's a defining piece of our business as a promotional products company and part of our corporate culture.
The country may finally be heading out of the recession, but we're not there yet. So if your business hasn't been actively developing a personal connection with your customers, stop by the meat counter at your local grocer for a taste of what your clientele is missing. It may give you the edge you need in these tough times.