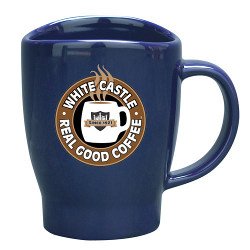 Our client, a major fast food chain, was known throughout the Midwest for their hot, delicious coffee. Although their brand is all about burgers, the customer following for their coffee became an added bonus! So, they were looking for a custom coffee mug to serve as a giveaway to their best "coffee club" customers.
We worked with the client to develop unique artwork and designed a custom mug that was appropriate to their brand.
Now, when their customers are hungry for a burger, they always add an extra cup of coffee to their order!