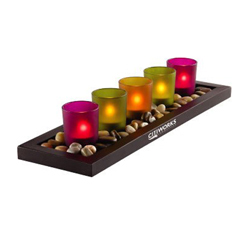 I wish I could claim that tricky title but I must give credit to Promo Marketing and their great article that inspired this post which I hope inspires you on your next promotion. It discussed how promotional items can captivate each of the five senses.
light-up items play on our sense of sight to attract attention at a crowded trade show. Or the way a plush product can reel in recipients through their sense of touch. And who could argue that delicious chocolates don't feed our taste cravings?
The most interesting idea was scent-branding--the way that scents can trigger memories and emotions, and thus add an additional layer of complexity to a branding effort.
For me, personal memories are often triggered by smells--I never forget them. One of my all-time favorite smells is the scent of fresh-baked bread. It takes me back to when I was a kid on my way to summer camp and the route that took me past the Wonder Bread bakery every morning. I don't drive by it much anymore but I still remember and love the scent and memory!
So how can you leverage the power of scent in your next campaign?
There are a growing number of products designed to help you do just that. Partner your brand with the calming smells of lavender or cucumber melon with our a*Roma Stress Balls or plant your brand into people's minds with our Bamboo Blossom Kit, perfect for at home or in the office. Too esoteric? We've got you covered with more traditional items like imprinted scented candle sets and lotions.
Sounds like smart promoting to me!