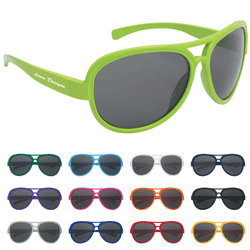 I love the outdoors, especially in spring and summer when the sun is shinning. Needless to say, I thought Promo Marketing's article 'The Great Outdoors' was wonderful. It had some great ideas I wanted to share here to hopefully inspire you for your next outdoor promotion.
For work or for play, there are hundreds of promotional products you can use for outdoor activities. Creative ideas would be a company picnic, sporting events or even a concert. But the great thing about outdoor promotional marketing is most promotional products can be used on multiple occasions including all the above and more, such as taking a relaxing vacation You want to make sure you include all outdoor lovers--Cover all spectrums such as providing a promotional towel or folding chair for the outdoor relaxers but also provide to active outdoors men/women with promotional binoculars or sporting accessories. My personal favorites for summer are bright colored summer totes and coolers for a picnic or vacation. You can tell I'm an outdoor relaxer!
No matter which item you choose, your logo can explore the great outdoors by being imprinted or embroidered on your promotional items. By marketing with outdoor promotional products there are no boundaries as to how far your logo can go.