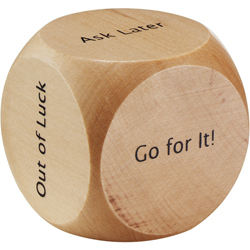 Tradeshows can bring tough competition and tough decisions about promotional products. Decisions about which items, colors and sizes to use are just a few of the questions you need to ask. In the past, notebooks and totes have proven to be the most popular trade show items to hand out, so how can you make yours stand out?
Lucky for you, I have found your answers.
I recently read an article in Promo Marketing about making the best decisions for your trade show. I found 4 great tips to live by to make your next trade show successful.
Know your goal. There are two options with choosing the color of your items. You can take route 1, instant recognition, by using a bright eye-catching color or you can take route 2, providing a long lasting item, by sticking to more neutral colors.
Size does matter. This rule is just for bags since there are so many options on size. Promo Marketing suggests the perfect size tote is 20x6x16". Also a long strap is recommend because it makes the tote more useful and appealing
Take it off the show floor. Go the extra mile and supply your clients or sales people with a journal or notebook as a welcome gift before they even set foot on the sales floor. The gift will be much appreciated and is bound to stand out more due to the lack of competition.
Interested in reading the full article? Visit http://magazine.promomarketing.com/article/show-specials-405555_1.html
If you want more ideas or want to speak with our team of promotional product experts about your next trade show, give us a call - we are prepared and pleased to help.