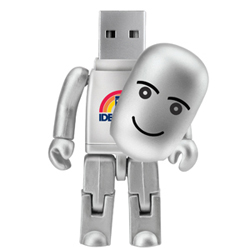 In 2000, Trek Technology and IBM introduced the first USB flash drives providing 8MB of memory space-trumping the then ever-so-popular floppy disk's memory space more than five times.
USB flash drives have modified and adapted into a popular multipurpose device used for data transport and to secure storage-with the ability to store data, music and pictures. These small, virtually impossible to crack or scratch devices have been through durability tests, proving to be effective even after an accidental dip in a washing machine. Their slender and stylish look let them easily fit into any pocket, purse or briefcase.
There is peace of mind in knowing all of your personal and professional information is safe in one place! Leaderpromos.com offers a huge selection of promotional USB drives. Available in different colors, shapes, materials and designs, you are bound to find the perfect item for your next promotion. Check out our nifty USB pens or our exclusive USB figures great for giveaways.
Help give your employees, clients and customers a friendly reminder with a promotional USB flash drive sporting an imprinted or engraved version of your logo. Working with our team of promotional product experts will make your ordering process so effortless and unforgettable you'll want to keep coming back.