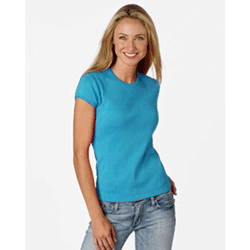 As you might have read in my previous posts, shirts rank as the number one promotional item in popularity and usefulness.
Promotional t-shirts are one of the most popular giveaways at events and fundraisers. Maximize your brand's impact with our three top t-shirt tips:
Have your giveaway connected with an unforgettable experience--No one wants to wear a t-shirt from a boring event. Engage your recipients with an exciting event relevant to your company or organization. Consider teaming up with a charity or sponsoring a fundraiser.
KISS (Keep It Short and Simple). When creating your t-shirt design remember to stay goal-oriented. Yes, you want a stylish and wearable shirt but more importantly, you want your logo, message and company to be clear and recognizable. Don't over-design your shirt and create clutter. Try using high-contrast colors and aim for a total of no more than three colors. This will make your design more recognizable.
Engage your audience. Depending on your event, providing an activity recipients can participate in could turn your promotional giveaway into their 'keeper' t-shirt.
If you would like other creative ideas to match your next promotion, our team of promotional product experts are prepared to answer any and all of your questions. Give us a call today!