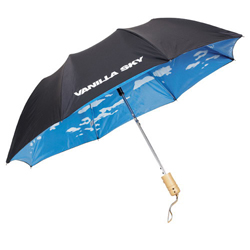 April showers are on the way and leaderpromos.com wants you to be prepared! We offer a wide variety of promotional umbrellas that are great for your employees, clients and customers and are ideal for any sporting event, traveling and day-to-day activity.
These promotional products come in an assortment of colors and sizes, from travel umbrellas that fold down to a mere 6 inches to golf umbrellas that expand to 9 feet across.
Best of all, we can customize all of our promotional umbrellas with your logo on the handle, case or canopy. Fabric colors can also be matched to your company brand and some models even offer the option of a double-sided imprinted canopy. Whatever your needs, leaderpromos.com can help you create the perfect umbrella, one that will set your company, group or organization apart.