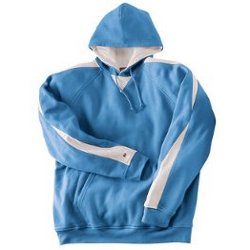 While the sweatshirt has been around for ages and hasn't exactly seen any revolutionary changes, there are a few trends one should be well versed on when making purchases for corporate outings and employee gifts.
First, consider the popularity of vintage styles for sweatshirt purchases. The "aged" or "frayed" look has made a return and certainly will be appreciated by younger, trend-setting youths.
Secondly, there is a trend in the industry for heavy fabrics that are great for picnics and tailgates just in time for football season. Heavier sweatshirts are especially perfect for those looking for warmth and comfort. The soft material is perfect for sports fans of all ages.
Thirdly, the hooded sweatshirt has made its way back. What was once popular in the 80s, has found its way back to the fashion-front and many suppliers and retailers alike have seen a spike in sales. Once popular with the X-games crowd, the hoodie has become more main-stream and can be seen on people from all walks of life.
Lastly, like the t-shirt market, there has been a move towards eco-friendly products and while there are very few "green" sweatshirts on the market, this segment should grow as consumers demand more environmentally friendly products.
Check out our extensive selection of promotional sweatshirts and sweatpants for the latest styles and colors.